Bacon and eggs?
Cereal and toast?
Coffee and pastries?
Not in Morocco. A Moroccan breakfast has few of these things. But it is a pretty good meal, and it is available most of the day at most cafés."
So what is a Moroccan breakfast?
And what is khlie?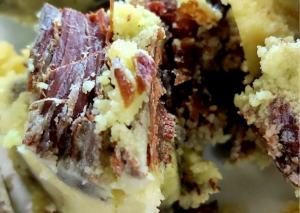 At the basic level it is bread with cheese, honey, and or amlou – a paste of crushed almonds – it's that thing next to the peanut butter in your supermarket that you often look at but don't get because it is expensive. Slice the bread in half and spread, then toast it if you wish.
The bread is a little different too. There are plenty of baguettes, thanks to French occupation, and of excellent quality – and varieties (which also means plenty of pastries).
But Morocco has its own variety of bread. Not a loaf as we might be used to, but more like a small cob called hobza, a flat round bread maybe only an inch high. It's often small, though I've noticed that the typical size varies not only between bakeries, but also between towns
The usual seems to be about 6-8 inches across (15-20 cm), but some of my favourites are a foot across (30 cm). They are made from wheat flour, though can have semolina or polenta in them – smida.
The point of this bread which amuses me most is the centre. A fussy kid at home will demand that the crusts be cut off – they only eat the fleshy inside bit. In Morocco that is considered the wasted bit. The inside fleshy bit is routinely ripped out and discarded!
A baguette sandwich or panini at a sandwich shop has the middle ripped out and discarded so there's more room for the filling – my choice is grilled chicken loaded with salads and pickles. And of course, let's be efficient – the accompanying chips are simply added into the sandwich with the rest. No extras to juggle. Sauce and mayonnaise to taste.
But back to breakfast.
The second classic type of breakfast bread is a very flat one also made from wheat flour with more similarities to an Indian flatbread – square and slightly dark in colour. It's called msmen.
Find that hard to pronounce? Just drop all the vowels and run the other letters together. If your friend or grandfather thought you have developed a stutterg, you got it about right. 
And as with the hobza, it is spread with cheese, honey, and/or amlou. Being flat it is usually rolled or folded.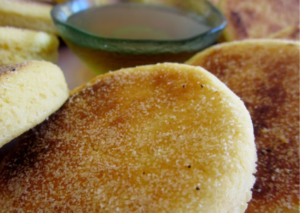 Then of course there is harsha, which is made from polenta, spread and toasted the same way as the msmen. All comes with a hot drink – mint tea, or Moroccan coffee. Most cafés will have this available – though be mindful, not all. Some cafés literally have just tea and coffee, not even orange juice on offer. But not to worry. You can bring your own food, and many do. This is frowned upon in the countries I'm used to that it seemed weird at first. But if it's a basic café, even if it has some food, it's still ok to bring your own from somewhere else.
But what about a bigger breakfast, those hungry days, or if you're just looking for more than bread. 
There are plenty of fancy cafés with a menu of breakfasts – a Spanish breakfast with the chopped tomatoes and toast, a French breakfast with croissants and pastries, and sometimes all the way to an English breakfast in the flashy or touristy bits of town.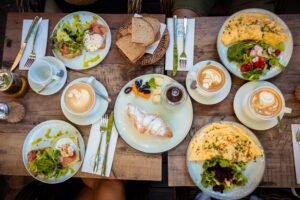 Served up in most hotels, and in many cafés as a petit dejeuner complet, this will be eggs – usually an excellent omelette often with cheese – or you can choose to have 2 fried eggs – with a hot drink, a small orange juice, some bread and cheese, and maybe some salad or fruit. 
And always some olives.
Rather than salt and pepper, I'm becoming very fond of salt and cumin. 
Cutlery will be brought, but the locals don't generally use it. Moroccans eat with their hands. 
I spent hours at first watching, and wondering how they managed to look so elegant. Whenever I use my hands I end up competing with babies and feeling like more of my meal had gone onto me rather than into me. 
But it's not so hard. And the secret I found, is to wait til you're so hungry you really don't care.
It's very simply.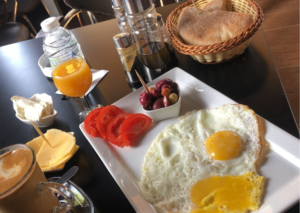 Use your right hand, just the thumb and first two fingers – keep the last two out of the way, and you're already nearly a pro.
Tear off a small portion of bread and use it as a spoon-scoop inside your fingers. Package your mouthful into the bread, by using your fingers to tear the food apart – I know, seems strange to touch your food, but that's how it is done here. Hold it together with your thumb, twist your hand around and pop it into your mouth.
I know, right. It feels like you're playing with your food! Move over toddlers – us grownups are going to have our fun!!!!
Best of all, the details don't matter. Nobody is watching or interested. Everyone is just getting on with their own food, and the socializing that usually comes with meals.
So welcome to enjoy your omelette or fried eggs with a knife and fork. But hey, why not have a bit of fun because you can. Attack your breakfast with your hand, use the bread, and enjoy it!
But wait. There's more. There's a special Moroccan treat available at most places, the Moroccan version perhaps of eggs and bacon.
Khlie.
A friend described khlie with eggs as the perfect combo.
First, how on earth do you say that? 
Clear your throat, breath out a raspy 'h' from the back of your throat, then add the 'l' and an 'e' as in pet. Or as in the title – a pair of khlie, because it rhymes.
So what on earth is khlie?
This is a traditional breakfast which I am told originates from Fes when it was the capital of Morocco, in the 13th and 14th centuries. An easy explanation is that it's kind of like beef jerky cooked into your eggs in a clay earthenware dish.
It's not actually beef, but lamb, cut up small, and then long, deep cooked in fat. Very tasty, and an excellent way to start your day. Or continue it around brunch time… or even later.
If you're looking for somewhere to go, many of the hotels on the Corniche along the water front have fancy breakfasts. 
If you're looking for somewhere a little more ordinary, or nearby when you're staying in the medina, head to Petit Socco in the middle. Grand Café Centrale has a decent petit dejeuner complet, as well as a menu with a range of options including pancakes.
I often go down to the bottom of the medina where there are a string of cafés including café Mamounia. All have much the same menu for much the same price, and are a nice place to sit. 
But like cafés, breakfasts are everywhere. And best of all, you can then take part in Morocco's favourite pastime – sit with a hot drink and watch the world move by until it's time for another food experience – perhaps a personal one through Blue Door Cuisine.
Bon Appetit.