What do they drink in Morocco? Can you get decent coffee in Morocco? What has Camille Saint-Seans got to do with Tangier? Who is the Toulouse-Lautrec of Tangier?
You are in luck!
Morocco is a café culture. There are cafés everywhere. What's more, the coffee is decent. And bonus – you may even be dazzled by the local drink – not just tea, but sweet mint tea.
There are two things you will notice when first in Morocco.
Cats.
And cafés. 
Both are everywhere, and often come together. The streets are filled with people lined up on the footpaths sitting at a table with their backs to the wall, some with friends, some alone, all with their tall glasses filled with tea and floating mint leaves.
Yes – tea made with fresh mint.
When first in Morocco, I found these rows of people lined up along the footpaths very strange. Why are they not even facing the friends they have met to talk to?
But there is a reason. Cafés are a pastime. They are places to sit and chill, to watch the street and the world pass by, to quietly meditate on life, or on nothing much at all. We in the west are so often focused on being busy, this is a quality most of us have lost.
Now when I see some tourists sitting in a circle around a coffee table talking to each other – that's what I find strange. Now I look at them and wonder – why have they got their backs to the street?
I find it meditative – quietly sitting with a tea or a coffee, watching the rhythm of life. It doesn't even matter if it sometimes gets a bit noisy – because it is all passing by, a backdrop. The women in their djelabas, children in tow, or chatting with friends. The men in gandora walking with their mates or heading somewhere. The ebb and flow of traffic – because here, the rules are just a suggestion.
Even the coffee is a performance. I ask for Kahwa Hlip – a café au lait. It usually comes in a small glass, the brewed coffee already in the bottom. The waiter pours the heated frothy milk from a height with a flourish, and will not spill a drop. You will typically have 4 cubes of sugar arranged on your saucer, and a glass of water.
Or Atai – a tall glass of sweet mint tea – you have to ask for no sugar.
I often use the coffee shop as a work break – I catch up with friends online, check my emails, do my daily language routines, or chat with friends passing by. Others use the cafés for work. Most just sit and meditate and while away time with their friends.
How is this tea made? Because every tea has its own peculiarities.
Boil the water in a teapot on the stove.

Rinse the tea leaves in some boiling water, then add them to the pot with the sugar and fresh mint.

Boil for 2-3 minutes.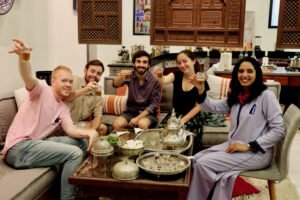 Now find a spot to sit – a rooftop is always good!
Or a cosy corner when you are back home with your packet of tea and want to reminisce over your Moroccan stay. But right now, in Tangier, where can you go for a drink. With so many to choose from, this can feel intimidating.
Here are some places I have found. The first five are fancy places if you want a special treat – places with sea views that make the occasion special.
Five Occasions
1 & 2: are at the top of the medina near the Kasbah, there are two popular cafés with ocean views from their rooftops (food as well) – Salon Bleu, and Macondo, both right next to the Bab Bahr – the gate which gives you a view out over the Mediterranean.
3: If you go through that gate and to your left, there is another café, Café Azur. It is perched over the cliff, and again, who can beat that view! 
4: Another spot which is coffee and tea in luxury is from the terrace of the Palais Zahia Hotel and Spa, which is just off the Petit Socco square in the middle of the medina. 
5: While up near the top, outside the medina and not quite as fancy, there is a café with unparalleled views – Café Hafa. It's about a 10 minute walk up from the top of the medina, but it is open air and again, perched on the cliff tops. The views from there are about the best – sit over the Mediterranean and look at the Spanish hills while sipping a mint tea.
It is just past the Roman graves, carved into the rocks on the clifftop. A row of roman columns – or rather, their cement makeup suggests a rather more recent imitation of them – lines a short paved road down to the cliff edge – also a nice place to sit. 
All of these give you an experience with your coffee. With a little more local flavour, but still a flair for something extra, here are five more spots.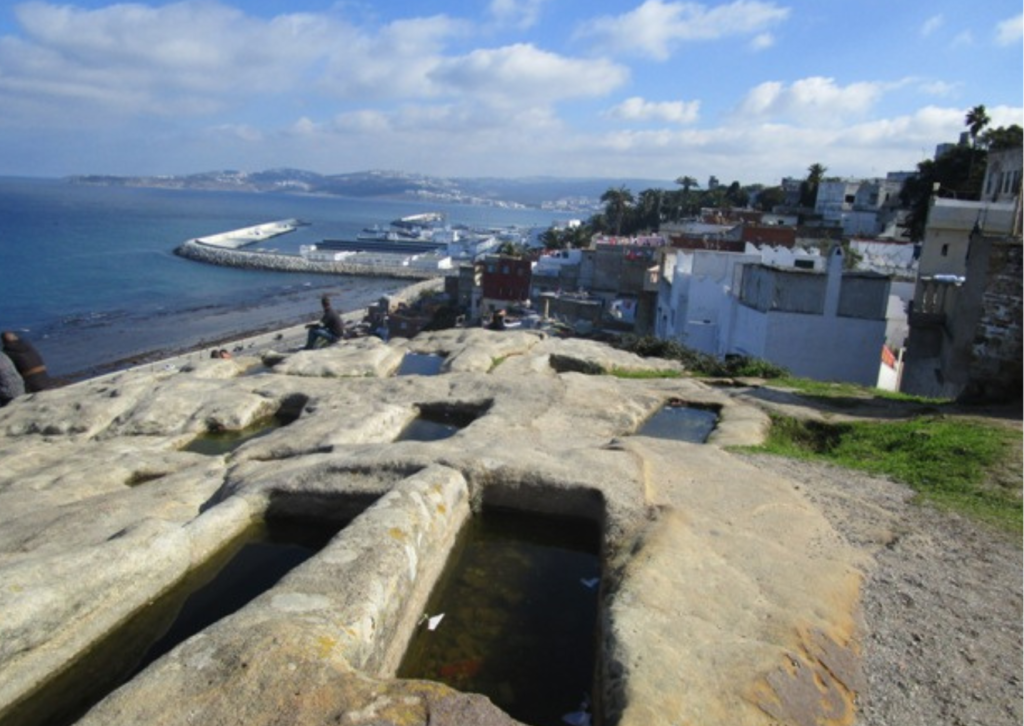 Five Moments
1: Across from the entry to the graves is a series of cafés called Hanafta, also a good spot for a tea or coffee, and very popular with the locals, especially on weekends. It is a nice green and open space to sit. I've found I can get a table with pleasant views across the greenery, which also looks down the columned roman road to the graves with the backdrop of the sea. 
2: Petit Socco is surrounded by coffee options, if a cheaper more practical option is what you're after. There is Grand Café Centrale, which has tajines and couscous for lunches in summer, but a place I frequent as a convenient breakfast spot, or somewhere to meet up with friends. 
3: Across from Grande Café Centrale is Café Fuentes with a surprising bunch of secrets. Because this is where artist Antonio Fuentes was born in 1905, often called the Toulouse-lautrec of Tangiers. As a child he was painting on their marble table tops while living on the top floor. This same hotel is where Camille Saint-Saens composed "Danza Macabra", and where other greats such as Delacroix and Matisse also painted.
4 & 5: Head up the street to Grand Socco, and you have the landmark Cinema Rif, always a nice spot for a tea or a coffee. Keep going up to the next fountain (at the French embassy) and you will be at Café de Paris, always a pleasant spot to sit for a drink, either outside watching the traffic around the fountain, or inside in its art deco style café which always makes me think of the movie Casablanca.
But to be honest, if you want to do as the locals do, I find that the less I pay, the better the tea or coffee. 10 dirhams or under (plus I always tip 10%) the places I frequent are the little ones on all the street corners.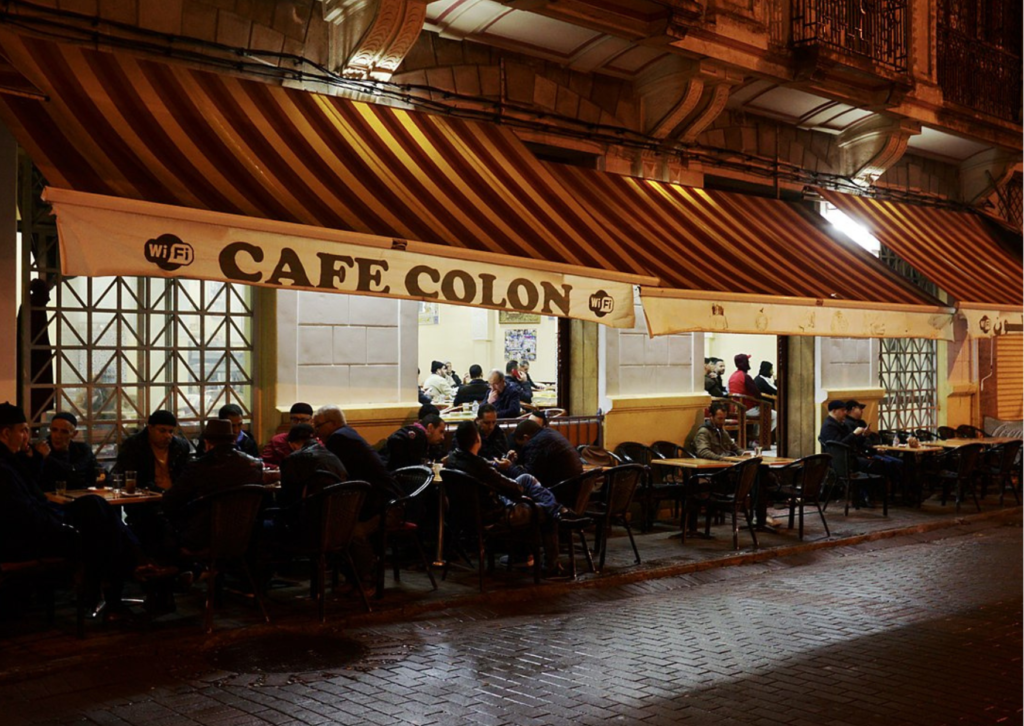 Five Local Secrets
1: Next to Grand Café Centrale in Petit Socco is the Café Tinggis with more local flavor, and a popular spot with passersby. 
2: Cristina's is similar, opposite Café de Paris, but from there I can see the sea across the canons in the little plaza.
3: Heading back up to the Kasbah on your way up Rue d'Italie, stop at Café Colon opposite Cinema Alcazar. This was used for the final scene of the movie, "The Sheltering Sky", based on a book by Paul Bowles, and popular with both locals and tourists passing by.
4: Once up in the medina again near the Kasbah, come down a little past Salon Bleu and you'll find Café Cherifa, very small, but with nice views over the medina to the marina (as does Café Baba very close by).
5: Another spot worth a visit is to go down to the bottom of the medina. There are cafés including Mamounia with good breakfasts and a nice open outlook onto a fountain. Or just above them, there are a couple of small ones with views of the bay. 
So be a little adventurous, try one you see on the way past. Sit on the footpath with your back to the wall and watch the world go by over your glass of Moroccan mint tea, or your glass of coffee, and chill for a bit before heading to a Blue Doors Cuisine cooking experience to top off your day of Moroccan food events.