No one can say two cuisines are alike. Each cuisine has its flavors, preferences and has signature products and cooking methods. Everyone considers salads the easiest dish to make since it is not complicated and does not require a lot of time or effort during its preparation. But to chefs, salads are the hardest and trickiest dishes to make, perhaps because they require great attention to details and flavor combinations. After all, the devil is in the details!
There are many differences between Moroccan and Lebanese salads, even though they are both oriental and share the use of some key ingredients; garlic, parsley, coriander and olive oil. Moroccan salads are mostly warm – they require cooking techniques as a way to combine all the flavors of the ingredients and spices in one dominant Moroccan dish. Lebanese vegetarian salads are, mostly, cold salads. They do not necessitate cooking. Another difference between Moroccan and Lebanese salads is that Moroccan salads are vegetarian whereas it is not necessarily the case for Lebanese salads.
Let's unravel the differences between Moroccan and Lebanese salads that use almost the same ingredients. This will also showcase the beauty of Arab dishes, especially Morocco and Lebanon, and how these two cultures can create something different and delicious from the same base. grab your forks, folks!
Baba Ghanouj vs. Zaalouk: Two eggplant-based Salads
Baba Ghanouj: A Lebanese salad
Baba Ghanouj is the best addition to any Middle Eastern style meal. It is similar to hummus but the only difference is that it uses eggplants as a main ingredient instead of chickpeas. For my health freaks out there, this salad is very low-carb! Like every Arab salad, Baba Ghanouj is best coupled with pita bread, some prefer to substitute bread with healthy veggies which is totally fine too.
So how do we make it?
For 5 servings, you will need 4 beautiful rounded eggplants (not necessarily round!) and 4 garlic cloves. You will also need half a tablespoon of salt and half a bouquet of parsley. First, you grill the whole eggplants on the stove making sure to flip them so that all sides get their share of heat. After they are fully grilled you let them cool then peel them. The next step involves squashing the eggplants with salt and garlic with a garlic pestle. Make sure you stir well then voila! Ready to serve. You can garnish the plate with chopped parsley and finish it off with a little bit of olive oil on top to give it a shiny, healthy, Mediterranean and elevated flavor.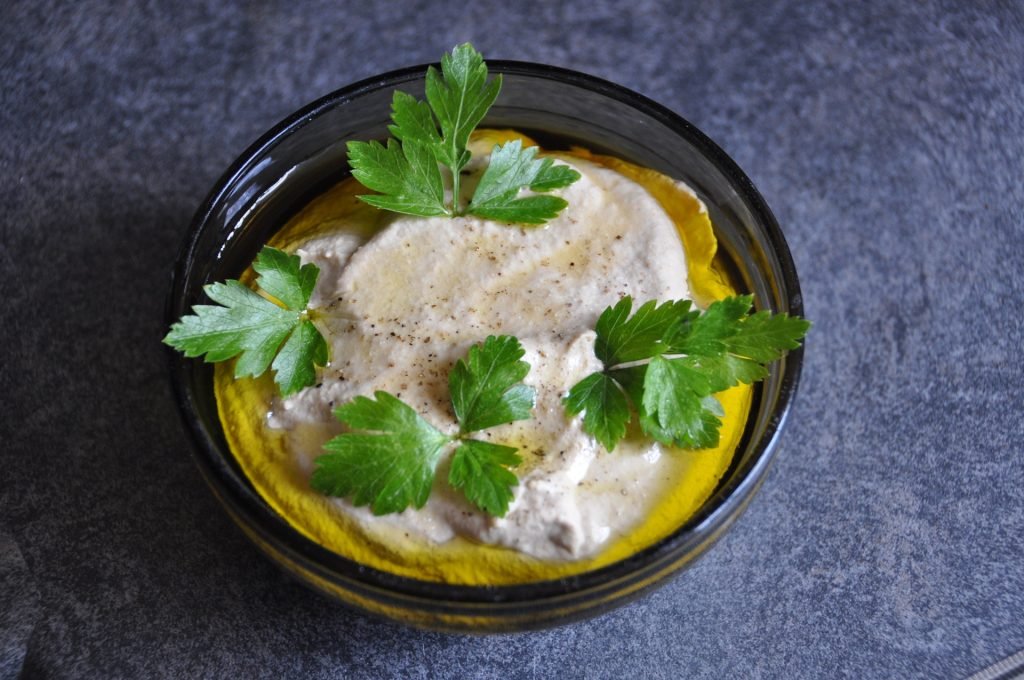 Zaalouk: A Moroccan Salad
Zaalouk is a very famous side dish known throughout North Africa. It is a sacred salad that is cooked the same way in all of Morocco with no additions. Usually, Moroccans enjoy it with a main dish that necessarily includes meat or chicken or any other protein. However, some Moroccans enjoy it on with nothing but loads of bread. It is served at weddings, special occasions or when inviting a special guest over.
Contrary to Baba Ghanouj, Zaalouk is cooked twice. Once when grilling it and another time when adding tomatoes. Before burning steps, let us discover the other ingredients of this delicious Moroccan traditional side dish.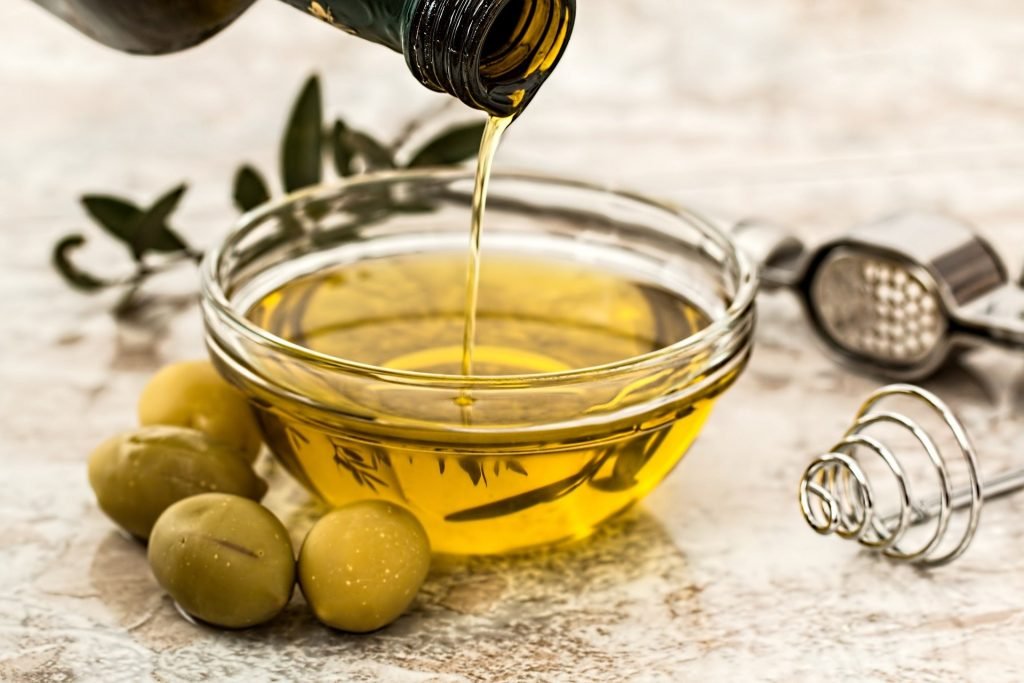 Usually in Morocco, women use their eyes as a measuring tool. There are no specific measurements because, in the Moroccan tradition, plenty of leftovers should remain after eating or else it is considered a sign of stinginess. Zaalouk can be kept in the refrigerator for two days after cooking it to assure that nothing will go to waste.
You will need 2 big eggplants of any shape, 4 peeled, seeded, and chopped tomatoes or simply a tomato sauce. You will also need as much fresh chopped cilantro and parsley as you wish and a tablespoon of paprika. In cities like Meknes and Fez, it is best to add charmoula for more flavor and originality. After grilling the eggplants, cooling them and peeling them, you chop them into small pieces or squash them. You add tomatoes and all the other ingredients and cook them with olive oil or vegetable oil in a pan adding salt to your preference. And here you have it, a Moroccan delicious healthy zaalouk. Bonne appétit!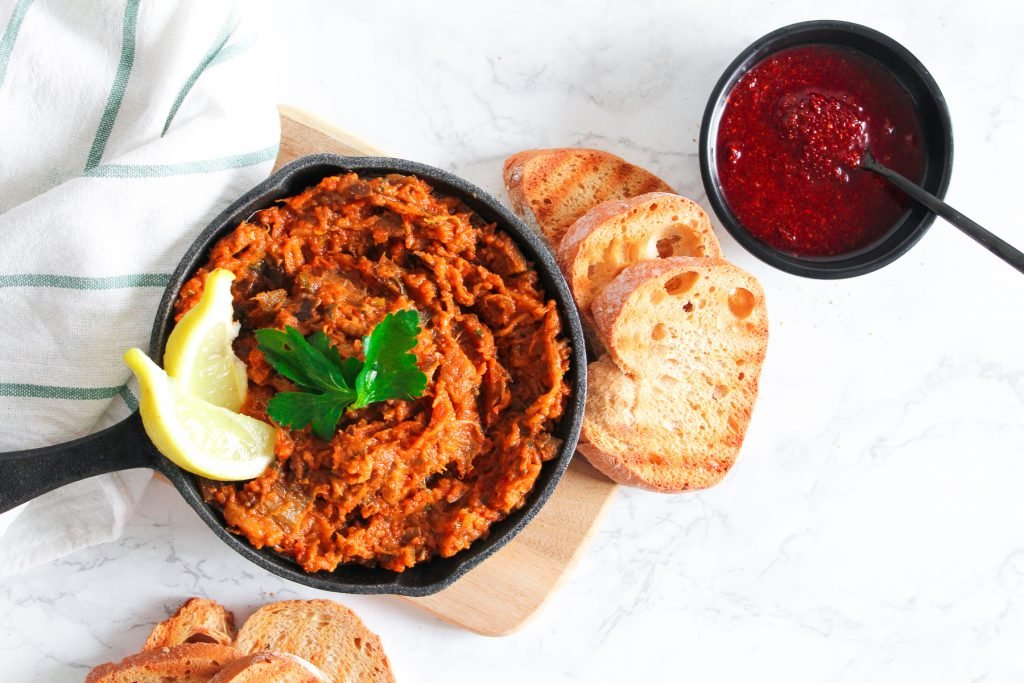 Hummus: the worldwide famous salad dip originated in Lebanon
Chickpeas are part of every Lebanese food table. It can either be part of a salad like Fattoush, Hummus with tahini with minced meat or used as a dip to accompany almost all salads. This dip or paste is called hummus; it is a traditional Mediterranean recipe that is now famous worldwide.
Its name originated from the word hummus. In Arabic hummus means chickpeas. It is healthy, that is why influencers and healthy lifestyle lovers promote it on social media or as part of their recipe books or just by word of mouth. Hummus can be coupled with a wide variety of veggies, breads, and even fruit. It is made with extra virgin oil instead of canola oil. Most store-bought hummus use canola oil. It has garlic, which is very important in Lebanese cuisine. While hummus is Lebanese, Morocco also is known for a famous salad dip; Harissa.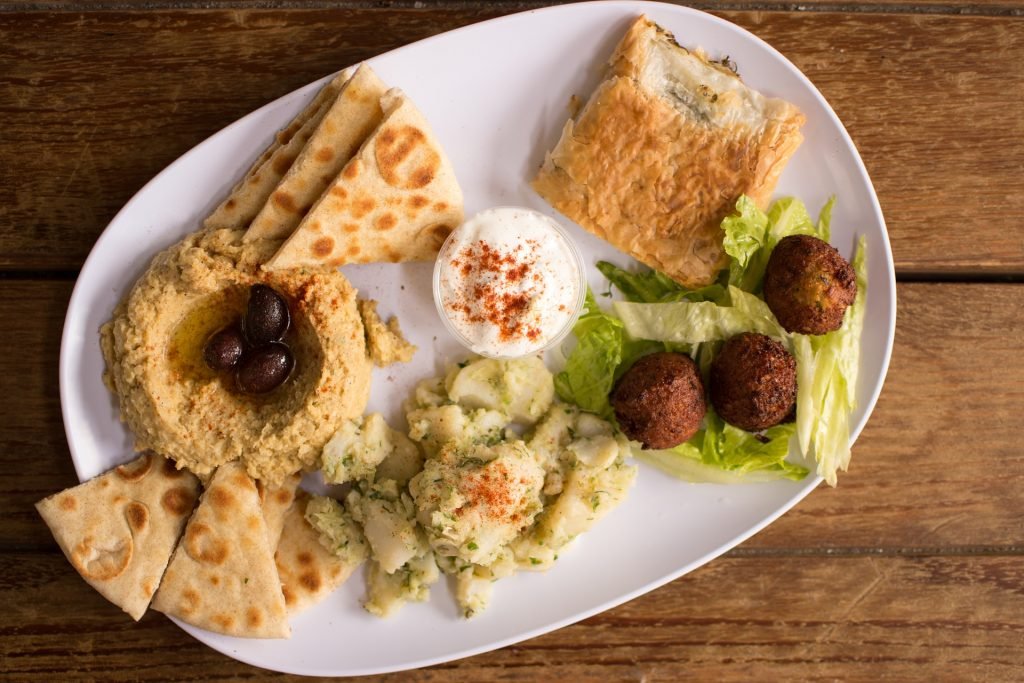 Harissa: the worldwide famous hot salad dip has a long history in Morocco
Harissa is originally from North Africa, it is a hot sauce that contains the same ingredients of Hummus. The slight change is in the main ingredient; hot pepper instead of hummus. It is mainly made of chili peppers, red peppers, garlic, salt and olive oil of course! In some Northern African countries such as Tunis or Algeria, herbs and other spices can be added. The word harissa comes from the word "herass" in Arabic which refers to the action of crushing the dried chilies in the process of making the harissa.
This hot dip has pleased chili food lovers in many countries and places not just Morocco. It is hot because it is a great addition to Moroccan warm salads contrary to hummus which mainly elevates cold salads. Harissa can also be used in main courses like chicken tagine, with raw veggies and sandwiches!
The genius of each cuisine resides in the way the ingredient is manipulated to compliment the culinary ritual of Lebanon or Morocco. The Arab world is very rich in flavors. This richness is perceived in the millions of healthy recipes the Arab world has. The success of these cuisines and their ability to attract food lovers from every continent is owed to the love and respect of the ingredients.