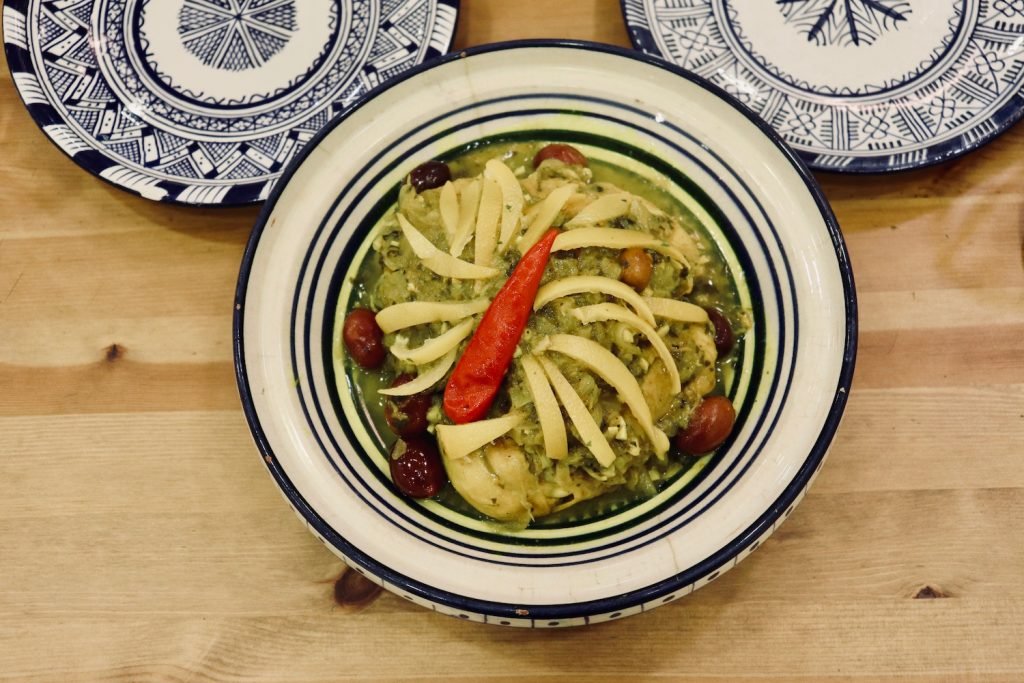 Ingredients
Two Servings
1 large Onion
100g green and red Olives 
20g chopped Parsley 
20g chopped Cilantro
½ Preserved Lemon 
3-4 stems Safran dissolved in ½ Ounce/15ml of water
3 Garlic Cloves, finely chopped
3 tablespoons Olive Oil
2 tablespoons Sunflower/Vegetable Oil 
½ teaspoon Black Pepper 
1 teaspoon Ginger
1 teaspoon Turmeric 
¼ teaspoon of Ras El Hanout – the 44 spices, Moroccan curry
600g Chicken 
½ teaspoon of Smen – Moroccan Fermented Butter
½ teaspoon of salt 
Instructions
Mix Saffron with a ½ ounce of water and let the natural color "run" into the water. It should be yellowish.
Chop ½ the Onion, Parsley, Cilantro, and Garlic separately then together. Place all in a bowl then add Salt, Black Pepper, Ginger, Turmeric, Ras El Hanout, Olive Oil, and Vegetable Oil.
 We put the chicken in the bowl and marinate it with the ingredients.
On low heat, add the marinated chicken to the cooking pot
Separate the pulp of the preserved lemon from the skin.
Chop the pulp of lemon and add it to the pot, and leave the skin for the decoration of the tagine later.
Add Smen to the pot
Stir the pot for 5 minutes to infuse the flavor of the spices. The color of the chicken will start to change.
Slice the other ½ of the onions and add the slices to the pot.
Add Safran mixture and a small glass of water.
Cover the pot and let it cook for 30 minutes.
Add the olives to the pot and let them cook for 5 minutes.
Slice the skin of the preserved lemon into 8-10 slices and use them to decorate your Tagine after turning off the heat. 
Bon Appétit!