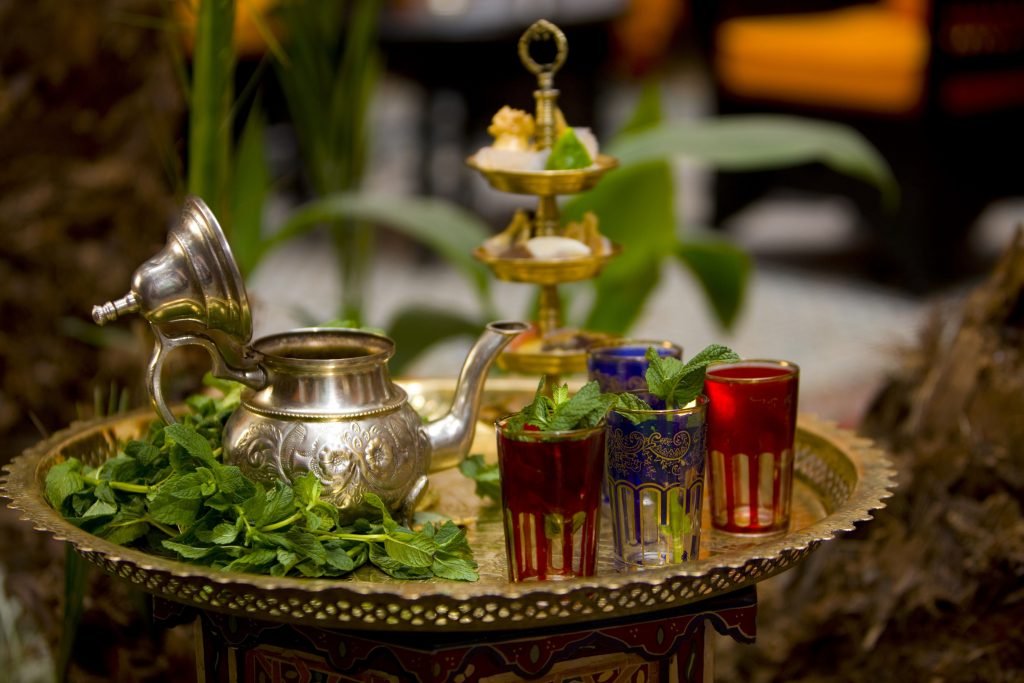 Ingredients
10 small cups
2 liters of boiled water
1.5 tablespoons Green Gunpowder Tea
8 tablespoons Sugar
Fresh Mint
1 Moroccan Laalk, Akacia Gum – Optional
Herbs, per your preference

Star Anise
Wormwood or "Shiba" in Moroccan dialect
Thyme
Safran
Sage
Florine
Cardamom
Clove
Basil
Lemon Verbena
Crystal menthol
Rose
Instructions
Boil water in a kettle.
Add the tea leaves to the decorative teapot that has a filter to prevent the tea leaves from coming out when you pour it.
Fill a small cup with boiling water and pour it into the teapot, and leave it rest for 3 min (don't swirl it).
Pour out the water in a separate cup. Set this cup aside as it contains the essence of the tea. Don't discard it.
Pour another cup of boiled water in the teapot but this time, swirl the teapot a couple of times to rinse the tea leaves. Pour out the water and discard it. We throw out this cup to reduce the bitterness produced by the tea leaves as they open fully.
Add the essence of tea and one teaspoon of Laalk to the teapot, then fill it with boiled water and let it gently simmer over medium low heat for 10 minutes.
Remove the teapot from the stove and add the mint, herbs, and sugar to the teapot. 
Let the tea rest for 3 minutes to increase the mint and herbs flavor. 
Raise your arm high when you pour the tea into glasses to create more foam on the top of the tea.