Morocco is a culturally, historically, and geographically rich country. Its uniqueness lies in the diversity of its sites and strategic geographical position. It has both a Mediterranean and an Atlantic coast line, which makes visiting Morocco's beaches incredibly varied. Allow me to introduce you to the best beaches Morocco has to offer.
1. Saidia
Saidia, from the Arabic root "Said" which means happy, is indeed a city that brings joy to its visitors' hearts. It is Algeria's closest northern Moroccan neighbor. It is famous for its picturesque landscapes and touristic sites. Between 2008 and 2010, the city received special care and pampering from the Moroccan government and private investors. Saidia's beaches are a great place for relaxing under eucalyptus trees, boating, sailing, and diving. This idyllic city is blessed with some of the loveliest Mediterranean beaches in Morocco.
The "Blue Pearl" is one of the happy city's gorgeous beaches. It is located in the province of Berkane. It was named the Blue Pearl thanks to its mesmerizing clear turquoise water. Saidia's Blue Pearl is more than a clean natural swimming pool – perfect for relaxing. It is also a place for water sports' lovers. Saidia's Blue Pearl offers many nautical pleasures. You can enjoy jet-skiing, windsurfing, canoeing, fishing, or many other sports available at this touristic site.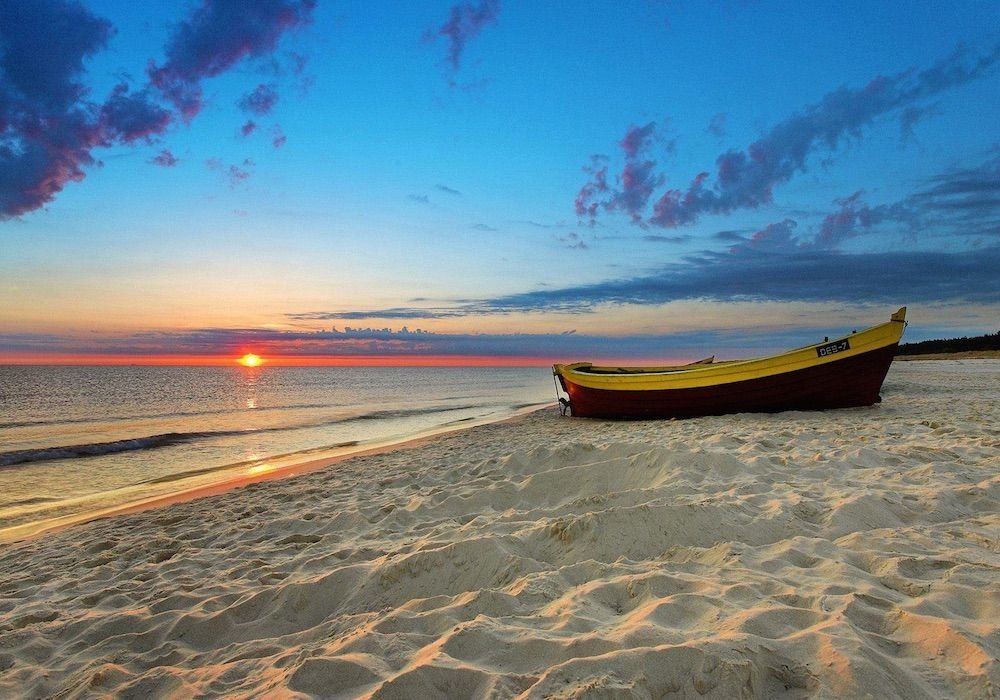 2. Asilah
Asilah is located on the beautiful Atlantic coast of Morocco. It is a great beach destination because it offers a variety of beaches to choose from. Here are the best beaches to visit when in the whitewashed city of Asilah.
The main town beach
Who said you can't enjoy your summer holidays without a car? The main town beach of Asilah is the destination for those without a car. Located at the end of the promenade, this large beach is close to the city center and is surrounded with various restaurants. These restaurants offer the best grilled fish fresh out of the sea, a variety of Seafood Tagines, and Moroccan green Mint Tea.
When visiting during the peak summer months, you can avoid the crowds by going early in the morning or before sunset. For those who do not like crowded places, it is favorable to visit this city in September.
Rmilat Beach
If you have access to a car, Rmilat Beach is the perfect place to spend a peaceful day with family or your partner. This beach is also referred to as Paradise Beach or Playa de las Cuevas. It is famous for its tranquility and laid-back vibes. Rmilat beach is located at the end of a long dirt track. It's not the easiest beach to access, but that makes it all the more secluded and peaceful. If you are looking for peps and an unusual experience, try accessing this beach by horse and carriage. The journey takes 40 minutes and costs about 150 MAD. The best part is that your horse and driver will wait for you for as long as you wish.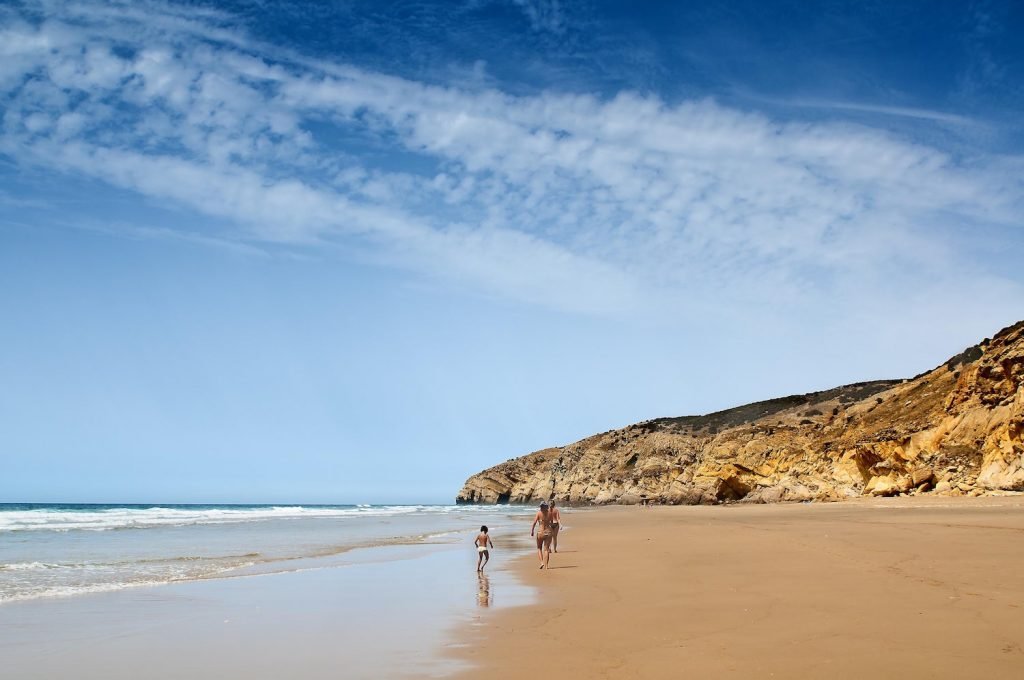 3. Tetouan
Tetouan's beaches are considered among the most beautiful beaches in the entire Mediterranean world. They are chiefly attractive to tourists because of their undeniably clear waters, golden sands, and mountainous shield which spoils the eye with a sublime breathtaking background. You can enjoy activities such as fishing, jet-skiing, and beach Volleyball. The Tetouan coast tends to all its visitor's wishes and preferences. Although it mainly consists of rocky beaches, it also has some sandy beaches like Azla, Tamarnut, Samsa, Wad Law, and Jabha. All of its beaches are very accessible.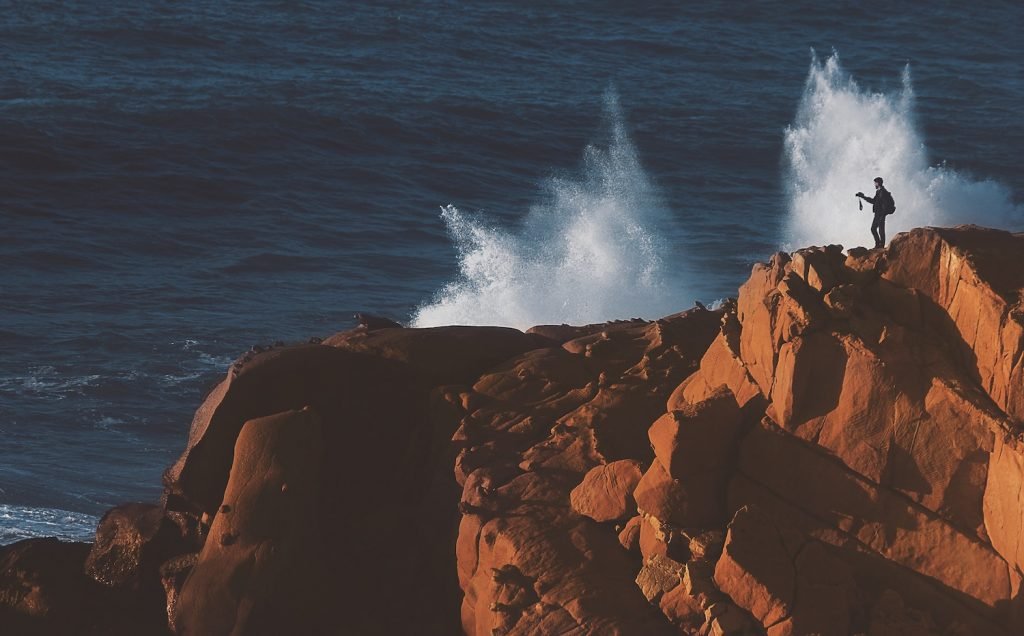 4. Al Hoceima
If you want a quiet experience at Al Hoceima, I advise you to visit the traditional city in late spring or September. At that time of the year, the beaches are quiet and not so crowded with only few Moroccan, French, and German visitors.
Al Hoceima is a Northern Morocco city located on the Mediterranean Coast. It is right on the edge of the Rif Mountains and has some of the best beaches around. The small town mainly welcomes city-dwellers seeking to be cleansed from crowdedness, loudness, and pollution. Because it is very small and shielded by mountains, it is mostly only known by locals.
Quemado Beach
Quemado Beach is one of the city's popular beaches. Though it is a public beach, its beauty lies in its cleanliness. Surrounding Quemado is a long line of affordable restaurants offering a big variety of fresh out of the sea fish and Bocadillos. Bocadillos is a very popular cheap sandwich served by many of the locals for a mere 10 MAD. It is according to visitors "the best lunch you could wish for".
Being in Al-Hoceima's beaches is also unique thanks to the historical Spanish feel the city spreads around it. Those vibes reach the beach and create a singular enjoyable atmosphere.
Tara Youssef
It is located five Kilometers west of the city of Al Hoceima. Its reputation of excellent quality precedes it, making it many visitors' summer destination. The beach extends over 1,000 Meters. It is close to the city Al Hoceima making it very accessible and well equipped with a touristic complex.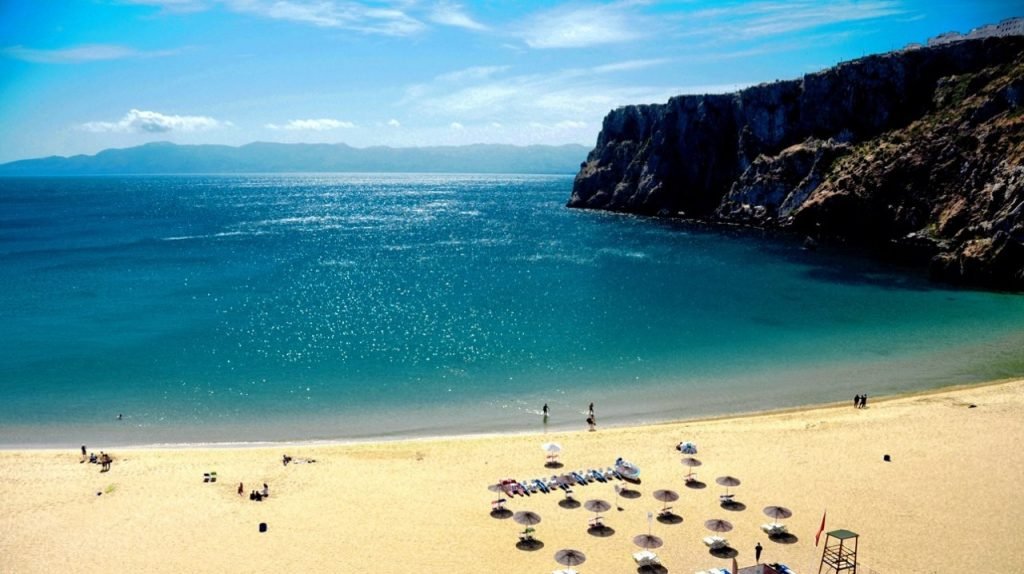 5. El Jebha
A small town nestled between Tetuan and Al Hoceima, El Jebha is a fishing village by trade. It is surrounded by beautiful picturesque beaches and wild coves.
El Jebha Beach
Its main beach, called El Jebha, is well known to tourists. In the shape of a crater, it resembles a swimming pool, only saltier! Its peculiarity lies in the fact that it is carved into a rock, offering a beautiful view while also helping to preserve the cleanliness of the beach. It is the perfect place to scuba dive. Not only that, but the beach offers its lucky visitors the possibility to see wild dolphins who live there all year long.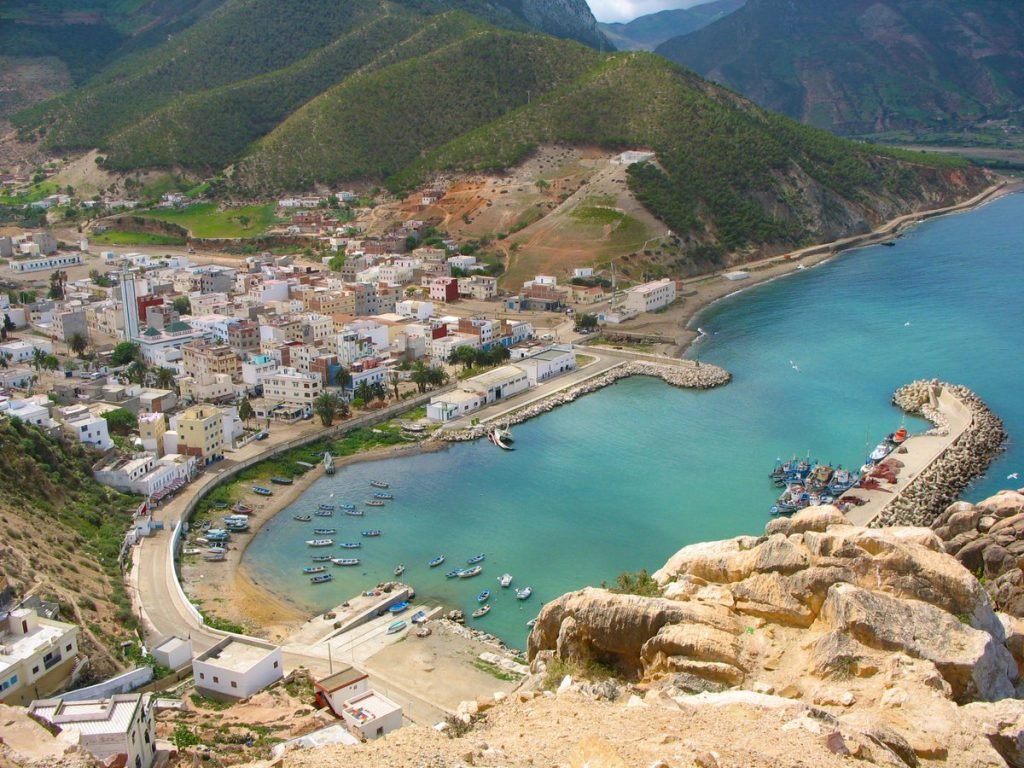 6. Nador
The beautiful city of Nador is located at the North-East of Morocco, at the area of the oriental Rif. It is well-known for its beautiful diverse beaches especially after renovation, like Salt lagoon Marchica.
This large beach, which belongs to this small city, is the largest salt lagoon in Morocco. It has always been one of Nador's proud treasures but its beauty was hindered due to pollution and poor maintenance. However, it is now one the cleanest beaches of the northern region thanks to recent rehabilitation projects.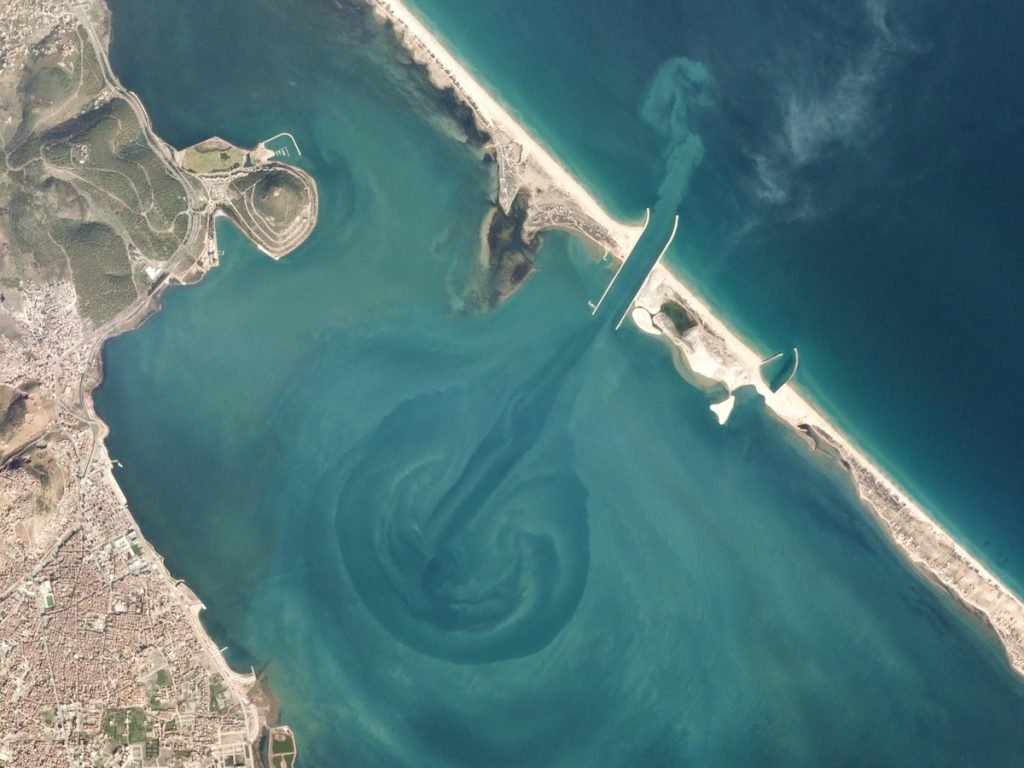 Charrana Beach
Also belonging to Nador, Charrana Beach is a beautiful bay. The beach is not accessible to everyone because it is located one hour from Nador's center. The road leading to the beach is rocky making it even more difficult to reach. Despite the former reasons, tourists and visitors from around the world were not in the least bit discouraged to discover this quiet virgin beauty. The beach is still a very famous touristic site, thanks to its crystal-clear waters.
For those interested in spending a day in this natural beauty, make sure to pack a picnic and drinks since food vendors are not always around. The sea is absolutely beautiful and perfect for swimming, diving, and snorkeling. In Charrana beach you can spend the day sunbathing and swimming. If you are lucky enough, you may even enjoy a barbeque on the beach after buying fresh fish from a fisherman coming back with his catch.
Plage Cap de l'Eau
If you want a rush of adrenaline and to meet crazy fearless people, Plage Cap de l'Eau is your destination. On this beach you can see some of the craziest jumps of your life. The place is famous for being wild and frequented by tourists. Unlike Charrana beach, hotels and restaurants are available. The beach is very peaceful and clean. You also get to watch a free diving show!
7. Dakhla
Despite the fact that its beaches are rather Atlantic, you cannot talk about the beauty of Moroccan beaches without paying respect to Dakhla's beaches. Dakhla is the city where the freshness of sea meets the harshness of the Sahara Desert. This mingling birthed a beautiful Lagoon nestled between the two. Dakhla is the city without a twin. It is unlike anything you have seen before. It is a living proof that traditions and modernity can harmoniously coexist. With its Nomadic traditions intact, Dakhla welcomes guests wanting to explore both the Sahara and its breathtaking Dakhla Bay.
Dakhla Bay is a surfers' haven, their Eldorado. It is the definition of perfect kitesurfing conditions with more than 330 windy days a year. Its lagoon is surrounded by desert and a unique playground where you can kite surf with flamingos and dolphins. This idyllic place is also the perfect destination for those who want to sunbathe, camel ride, deep sea fish, fish from the shore, embark on an array of water sports, or simply watch and relax.
Morocco is many tourists' number one summer vacation destination. The proof lies in the pleasingly crowded beaches and resorts each summer. Morocco answers to every tourist's taste and preference. If you are planning on coming to Morocco this summer looking for tranquility and peace of mind, I advise you to venture deep into the country. That is where the virgin beauty and cool quiet vibes lie. If you are one of those active sociable folks, always looking to mingle and make a new friend, then the crowded big cities will give you just that.
Whoever you are and wherever you come from, the beauty and unique identity of Morocco will definitely make your journey worth the while.